March Networks


For nearly a decade, March Networks has helped banks and credit unions around the globe enhance security, reduce losses from fraud and operate more efficiently. The company's Financial Solutions include enterprise-class hybrid video recording and management platforms, high-definition IP cameras, video analytics, fraud detection and prevention applications, and outstanding professional services. These solutions are proven in 450+ financial institutions in more than 50 countries.
3XLogic VIGIL VMS Features/Benefits:
Easy to use, intuitive solution providing automated health monitoring, centralized camera viewing (live and recorded  video) and system management (onsite or remote),  synchronized software updates, streamlined user management, and more.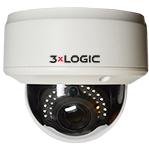 VISIX
The Visix line of cameras, by 3XLogic, provides a sharp, clear image. From 3 to 20 megapixels, we have the right solution for you – indoor and outdoor.

Verint
Verint's EdgeVR is a powerful network video recorder offering hybrid analog/IP capabilities and a range of analytic rules to address retail banking and corporate facilities needs. Designed for geographically distributed operations, the EdgeVR is ideal for financial institutions. Advanced capabilities include high-quality imagery, optimized bandwidth utilization, a secured embedded operating system and industry-leading interfaces.