ATM manufacturer Nautilus Hyosung scored a "hat trick" at last week's ATMIA US conference and expo in Las Vegas with the debut of three new models — the Halo II; the 5200 retail ATM; and the 2700Shell — which the company profiled in a series of press releases.
Halo II
"The development of the Halo II was in response to our customers' needs," said Nautilus Hyosung America President and CEO Andy Orent. "The Halo II offers new security features to protect our customers' investments, and added value to increase their revenues."
Halo II security enhancements include: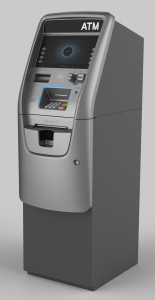 a UL 291 business hours safe with enhanced break-in protection;
a taller frame with heavier, reinforced metal and welding;
a front metal plate for additional protection of the safe and cash tray;
encrypted communication between key components and core; and
transport layer security network encryption protocol.
The machine retains its hallmark color LED lighting around the keypad, as well as a 10.1-inch color LCD screen, and a "no-spill" design that prevents users from placing beverage containers on top of the unit.
Halo II retail application software offers value-added revenue transaction opportunities, such as dynamic currency conversion, charitable donations, lottery tickets, and surcharge segmentation. An NFC option provides for future support of cardless cash withdrawals.
5200 retail ATM
According to Hyosung, the 5200 is ideal for high-volume, high-end locations and bank branding applications.
Machine features include:
a Windows CE 6.0 processor or optional Windows 7 PC platform with NDC emulation;
a function key or touch-and-function-key option with Windows 7;
6,000 note capacity;
a UL 291 business hours safe or optional heavy duty Level 1 certified safe;
a reinforced cash tray and heavy metal plating;
an EMV card reader with optional anti-skimming feature;
TLS network encryption protocol; and
an NFC option for future cardless transactions.
The 5200 will be available in Q2 2015.
2700Shell
The 2700Shell was developed to extend the life and capability of the NH1500 retail ATM, which Orent called "the most popular and reliable ATM ever made," with 50,000 in operation today.
Features of the 2700Shell include:
a 10.1-inch color LCD screen
with touch function key interface;
an EMV card reader, PCI 3.0 compliant pinpad and
WinCE 6.0 processor;
encrypted component communications;
TLS encryption protocol; and
an intuitive operator menu
program that supports the
MoniView RMS over Internet
or wireless modem.
As published in ATMMarketplace.com, Feb. 27, 2015  http://bit.ly/18OZP3H